ATTRACTIONS PHUKET
Should you choose to spend your Dental Holiday, or simply want an escape from the busy and noisy city atmosphere, Phuket Island is one destination that you will not run out of activities to do. Time will not simply be enough with all the things that this island has to offer.
Wat Chalong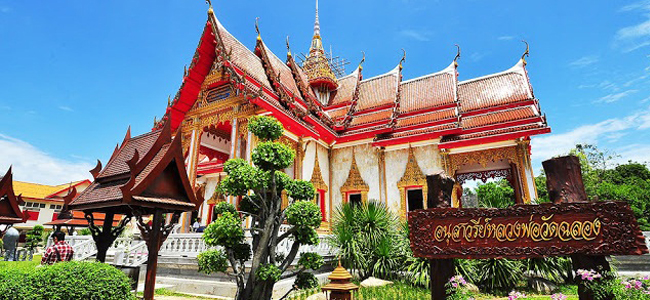 There are a total of 29 Buddhist Temples spread all over Phuket, but the most important among them is the Wat Chalong, formerly known as the Wat Chaiyathararam. The temple is built in dedication of two highly distinguished monks, Luang Pho Chaem and Luang Pho Chuang, who in 1876 led the people of Chalong to fight against the Chinese rebellion, and helped a lot of injured citizens with their unremarkable knowledge of herbal medicines. Buddhist Temples serves the locals in practicing their respects and satisfy their spiritual needs.Tourists are welcome anytime to visit the Wat Chalong, whether they want to learn something about Buddhism, understand Thai Culture & Religion, or just simply admire the beautiful structure of this sacred place where Thai Heritage remains high in spirits..
Bangla Road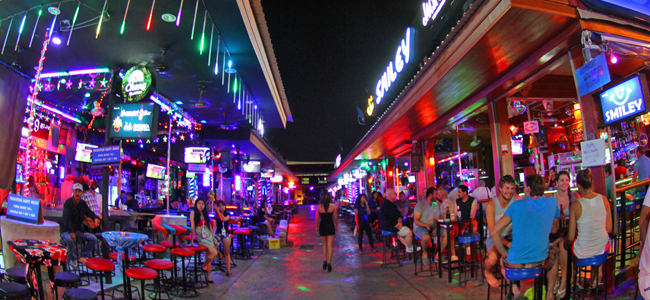 This road is considered the liveliest, busiest, and wildest street in the island. This 400 meter road paints the colorful night-life of Phuket with its glaring neon lights, explicitly loud music, astounding street performances, indulging pubs, intriguing go-go bars, lively disco clubs, and of course, attractive sexy girls all over the street. It is definitely a "not-to-be-missed" experience to walk along this road to witness the beautiful chaos it has to offer.
Phuket Town
The old Phuket Town in not that huge hence it would be best to explore in on foot. History enthusiasts will certainly enjoy strolling along the old streets of this town full of Sino-Portuguese Mansions and other handsome structures that served as residence to Tin Barons dating back a century ago when the island was still an active tin trading port. The famous Thalang Road is not to be missed but other streets also offer a lot of fun things to discover. The streets are most comfortable to walk through either on an early morning or after the sun sets in order to enjoy the shrines, temples, mini-museums, preserved shop houses, cafes, restaurants, and even an ex-red light district. The old town will be able to give you that nostalgic feeling of the "Old Phuket" where European conquerors where so obsessed of before and now being admired and loved by many.
Phuket Fantasea
Dubbed as the Ultimate Cultural Theme Park in Phuket, Fantasea showcases the rich culture and heritage of the Thai people in a 140-acre theme complex. A diverse display of entertainment ranging from carnival; a humungous 4,000-seater restaurant with international buffet and Thai cuisine; a spectacular theater that parades the many customs, traditions, myths, and mysteries that is definitely unique for Thais, will ensure a night of entertainment and fun for you and your friends and family. Fantasy of a Kingdom Culture Illusion Show, Carnival Village, Golden Kinnaree Buffet Restaurant, Suriyamas Seafood Buffet Restaurant, and Palace of the Elephants are the main attractions. Be sure to visit the souvenir and gift shops and grab a token to remind yourself of this place where you have had the most wondrous experience in the island.
Phi-Phi Island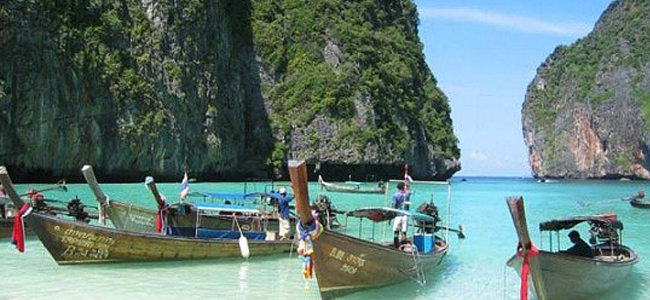 Phi-phi Island is the ultimate "cherry-on-top" spot of Phuket. This inter- island paradise is somewhat the only reason why some travelers keep coming back to Phuket, because according to them, no matter how many times they come and go to this place: the towering cliffs, beach-view jungle, and its clean & clear blue waters that gives an illusion of boats floating on glass keeps on exceeding their expectations and never fails to take their breath away. The best way to appreciate this paradise: Laid back and care-free while you welcome what nature is serving in front of you.
BEACHES PHUKET
How often do we assume that "fun, sand, & sun" when we hear about Phuket? Well, your assumptions are correct, this island's beaches are the very reason why Phuket is well-expressed and deeply appreciated.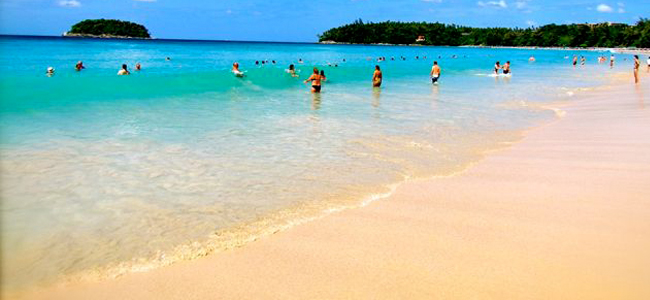 Patong Beach
Patong Beach is considered the main and therefore the busiest tourist beach resort amongst all the beaches in the island. Famous for its bountiful variety of activities and a wide range of night life, this beach, running at the whole west side of Patong, would surely gratify party-goers and promise them an epic neon night life. The beach consists of several bars, pubs, restaurants, nightclubs, and of course, several go-go bars along soi bangla.
The beach indulges every tourist's essentials for the night, grants every fantasy, and exceeds every expectation. Though the beach seems busy and fast paced, there are a few quiet spots to just seatback, relax, and enjoy the view while sipping your favorite drink in tranquility.
Bangtao Beach
Bangtao Beach is one of Phuket's longest beaches with its 6 kilometer stretch that rests a few minutes away from the Cherngtalay Village. The beach that was once used for tin mining now houses opulent resorts and villas. The large open bay is mostly occupied by The Laguna Complex, one of Asia's largest resort complex and golf course. All the luxurious needs and wants of the guests can be easily satisfied inside this gigantic complex.
Outside the Laguna Complex, the rest of the beach provides budgeted and affordable accommodations that are located at the beach's south end where you can also find more bars and restaurants. The northern tip of the bay however remains pristine where tourists can find tranquility and privacy where you can just merely soak under the sun and value what nature has to offer.
Kata Beach
Kata Beach is a picturesque description of paradise with its abundant white sand, palm-lined beach, and crystal clear waters, making it a perfect place for families who want to enjoy a wholesome and relaxing fun under the sun. Kata Beach is calmer compared to its neighboring beaches, but with the abundance of shopping and dining opportunities, it has become one of the main agendas of tourists and guests who'd prefer the serene atmosphere. Decent resto-bars and clubs are also present so the place will still give you a taste of its night life on its own right.
The beach has two focal areas, at the north end features The Kata Centre and at the south end is where several resorts are located. Options of accommodation affordability are very much available and are all very close to the beach. During the month of May to October, the beach entices surfers with its quintessential waves.
Karon Beach
Currently the third longest beach in the island, the 3 kilometer bay is situated and divided between Patong Beach on its north end and is adjacent to Kata Beach on its south end. The beach is famous for housing various water sports like snorkeling and diving. Karon Beach is mostly admired for its long stretch that remains serene and rarely-crowded, making it exceptional for relaxation and recreational pampering. If you're in for those evening strolls along the seashore under the moonlight, then this place will serve you best. Dining and shopping are located in a dynamic small city called The Karon Centre where Buddhist Temples can also be adorned. But if you are looking for a steamy night out and some exquisite dining experience, fear not, for the southern end of the beach centered on Luang Poh Chuan Road provides the energetic mood to get that groove on.
Kamala Beach
Also famous for its serene and peaceful ambiance, the Kamala Beach is situated north of the noisy and wild Patong Beach. Known to many for its relaxing feel and tranquil nature, the bay is perfect for retirees and families that plan to stay in for more than a week. Accommodations are very much available including small hotels, villas, apartment rentals, and luxury hotels located at the southern end provides the best view of the beach. The bay is home to the extravagant Phuket FantaSea Theme Park that showcases balanced Thai Culture and Fantasy Spectacular Performances. During the month of May to October, Kamala Beach also becomes a haven for surfers as its waters provide great surfing waves.
The beach's forest hills makes it one of the most beautiful places to visit in Phuket. It seems that it doesn't attract that much tourists because of what it caters to, but for those who did experience the place, they simply put that the beach is perfect just the way it is and that the peacefulness of the bay is suited best for witnessing beautiful sunsets.
Phang Nga Bay
With a span of 400 kilometers together with its emerald-green water and majestic limestone karsts that lies between Phuket and the Malay Peninsula, the Phang Nga Bay is guaranteed to give you that surreal experience of a paradise on water. Exploring the bay is possible within a day that would let you experience a variety of activities like island hopping, sea-canoeing, discovering hidden lakes and lagoons, cave exploration, and other water activities. Guests may also have an option to spend a night or two where accommodations are provided among the large islands. One of the places to visit is Koh Panyee, a fishing village that is built in stilt over water gives a feel of the local community where restaurants and handicraft shops are present. Another landmark is the Kon Ta-Pu or famously known as the James Bond Island where it was chosen as one of the shooting locations in the James Bond movie "The Man with the Golden Gun" in 1974.
This island also homes a spectacular limestone river where kayaking as well as sailing are among the popular activities. The best way to get near the island is to take a boat from Koh Ping Ghan, a small beach that is surrounded by high-leaning rocks that features small caves which can also be explored by tourists. A day tour in Phang Nga Bay is worth the pay that can suffice a curious wanderer or even satisfy an extreme adventurer.