TRANSPORTATIONS PHUKET
Getting around Phuket is one key to maximizing your time and enjoying your dental holiday to its fullest. Most beach resorts, considering their sizes, can easily be walked around. Restaurants, Hotels, and Shopping Areas are within close proximity to the beach. But not all of us, especially on those days that we are too lazy to go on foot - there are plenty of transportations available to get by. We have Tuk-Tuks, Songteaws (minibuses), and Motorbikes/Cars for Hire, Motorbike Taxis, and Taxi Cabs. All of them can be hired to explore all the wonders the island can offer.
TUKTUK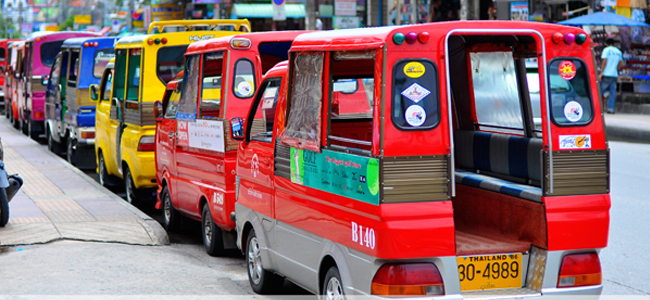 Thailand is famous among tourist with this rickshaw used in old days. An engine has now been fitted making it more convenient to use and drive around. It is one of the country's famous modes of transportation, and simply one shouldn't leave the country without experiencing this ride. A Friendly-Tip: Negotiate and haggle for the fare, as its drivers usually demand a higher fee. Another is to recognize the overly friendly and helpful drivers who offer to take you into special restaurants and shopping places. You'd end up paying more than you bargained for.
SONGTEAW
A "Songteaw," which means "two rows", are converted trucks or pick-ups being utilized as passenger or shared buses in Thailand. They are the cheapest transportation to go around, if you don't mind the Stop-and-Go to pick up and let out passengers en route to your destination. Fares range from 10 Baht to 60 Baht depending on how far the destination is. A Friendly-Tip: To get in, hail it down the road, hop in, and grab a seat at the back. There's a buzzer overhead to press when you want to stop and get down. After getting down, head over to the driver of the vehicle and pay for the commute
MOTORBIKES for HIRE/CAR for RENT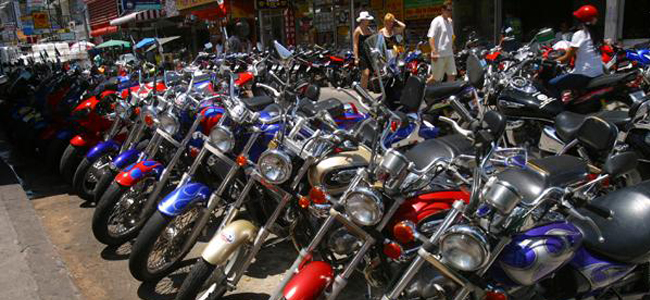 If you want to go around on your own, and want to enjoy some wind, motorbike and scooter rental shops are all over the place. There is only but one document that motorbike rental shops require, and that is Cash Money. They mostly don't have interest in licenses, driving permits, even your current intoxication level. Rental fees vary from 150 - 250 baht per day. Renting a car would be another option if you want to go around on your own, but be sure to have an International Driving License, Credit Card, and of course, your Passport. Fees usually start from 1,000 baht per day. A Friendly-Tip: This is a "drive-at-your-own-risk" kind of transportation, especially on the motorbikes, hence, you might also want to check your own insurance if everything is covered. Also, it would be a good idea to go for the international brands found at the airport or on your hotel when considering renting a car.
MOTORBIKE TAXI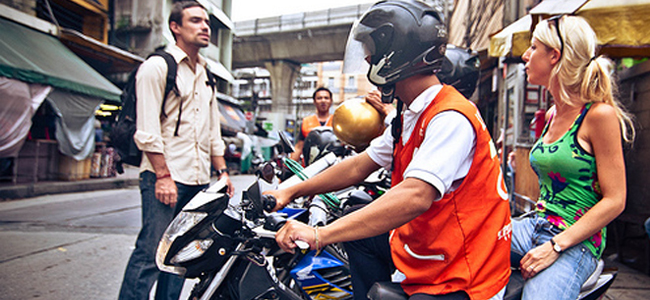 Motorbike Taxis have proliferated just about any place in Thailand, and Phuket is no exception. Just hop in the back and tell the driver your destination. They are convenient enough for short trips around the island.. A Friendly-Tip: You might also want to negotiate the fare before hopping.
TAXIS CABS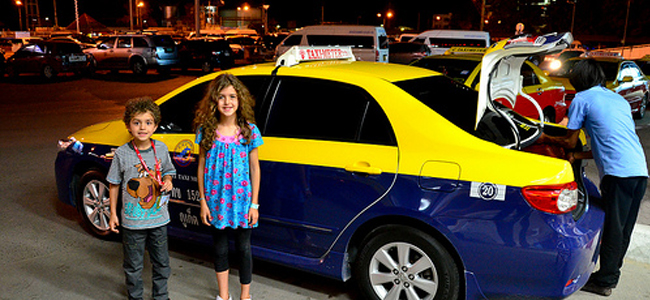 Air-conditioned Taxi Cabs can be found roaming around the island and would stop at any time if they are vacant. Metered-taxi cab fares usually start at 35 to 50 baht on flag down and an additional of 7 baht per kilometer. Occasionally, cab drivers will attempt to bargain with a fixed-rate and that would be difficult for you to determine if the price is reasonable. A Friendly-Tip: Whenever possible, always go for metered taxi cabs to avoid unnecessary arguments with the driver and possibly putting yourself in danger