NIGHTLIFE PHUKET
Daytime activities are not enough to satisfy your holiday? Are you in the mood for partying or simply craving for a drink to enjoy a relaxing night? Do you want a feel of "Las Vegas" whilst in the Island? Phuket has a wide range of entertainment and night life fun, from live music venues to cabarets, nightclubs and bars, and a whole lot more.
LIVE MUSIC
Patong is the center of most live music venues, with different genres like Rock, Pop, Jazz , and Folk. A mixture of Local and Filipino bands plays western music. And if you are in the mood, you can even jam with the bands.
Rockin' Angels Blues Café – located in the Phuket Town and is suitable for music lovers – particularly, if you're Blues Fan. In fact, the only bar in Phuket that presents Blues Music. The ambience is reminiscent of bars in Chicago with its dim lights, old records, lights and signs. The joint is located just around Yaowarat Road near the fountain circle and opens at 5:00 pm to 1:00 am.
Hard Rock Café – located in the main street of Patong, Phuket, at Rat –U – Thit road, that offers Authentic American Food and Rock Music. Opens at 11:00 am – 2:00 am. Bands start playing their hearts out at 8:00 pm.
Red Hot Bar – This bar features wide screen TV's feeding on sports, loud live music, and a pool table. Located just opposite Hard Rock Café, and opens at 12:00 noon – to the wee hours of the morning. Red Hot Bar offers a wide selection of food served until after midnight.
DISCOS & NIGHT CLUBS
Are you ready to party in Phuket? Every tourist is expecting something different and would surely want the best of what the island can offer, including places to unleash their animal instincts to party. Where else can one satisfy his or her hunger for party, but in a disco or a night club…here are some recommendations: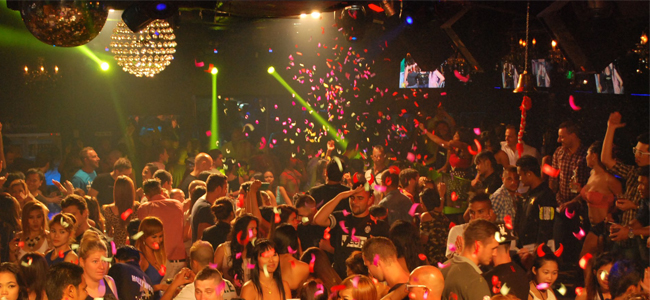 SEDUCTION CLUB – Located on a prime spot at the famous Bangla Road, this club is hard-to-miss. With international DJs and astounding sound system, partying in Phuket will never be the same. It is well-designed enough to give you a pulsing ambiance and erratic heartbeats to make you feel alive till the wee hours of the morning. The club also features 3 other VIP rooms (Blow/Russian/Sheeshah Rooms) if you want some exclusivity all night long. Entrance fee starts at 300 baht (drinks not included) and once you're stamped you can get in and out as you please and party back as you wish.
HOLLYWOOD DISCO – The disco can be found on Soi Easy, just off Bangla Road and is situated on the second level floor above some bars and pubs along the soi. The joint is divided into two large areas, the first is where you will find a lot of young party girls having their own kind of fun on central tables, and the next is where the actual dance floor is, awaiting to show off those dance moves you've been wanting to unleash. There is no entrance fee and drinks starts around 300 baht. You'll have to book in advance at a cost of 2,000 baht if you want to be seated around the dance floor. Try not to get intimidated by so many security personnel and don't come before midnight where the fun really begins.
FAMOUS NIGHTCLUB – Top-level party is what you'll experience in this club, and by top-level it means that this uniquely designed club is found sitting on the top floor of the Jungceylon Shopping Mall covering two levels that have two separate features. The rooftop level houses a glass-bottom swimming pool where you can find girls getting wet while dancing or playing ball games in tune with the DJ spinning cool party music. Sofas and sun-loungers are scattered all over the area so you can comfortably party under the moonlight. The lower level is where the main dance floor is located that features a superb sound and lighting system suited for an international DJ to play party music. The main highlight would be the glass ceiling where you can view through the glass-bottom swimming pool above. And the best part is No Entrance Fee. You can even grab vouchers being handed-over on the nearby streets for free drinks until midnight.
BANANA DISCO – One of the two oldest disco clubs in Patong but remains to be famous among local Thai and Tourist party-goers. It is located on the beach road not far from the lively Bangla Road and features large dance floor and equipped with good sound system and lighting effects. Try not to drop by too early otherwise you might feel lonely because party usually starts past 11 pm. Entrance Fee is at 200 baht inclusive of a free drink.
LADY-BOY CLUBS/CABARETS
Phuket Island awaits those seeking fun in the sun & sand, and not to mention… companionship. But this is not limited to men seeking female companionship or vice versa. Needless to say, the island is open to any type of companionship, thus a remarkable place is never to be ignored once you visit Phuket. The Royal Paradise Complex located in Patong Beach has been the heart of the Phuket Gay Party Zone, for almost 20 years now. Bars, clubs, and pubs on each side of the main street open their doors when the night begins to take over. The fun and easy-going ambiance of the area tends to attract a lot of visiting crowds, and you don't even have to be gay to enjoy it all.
PHUKET SIMON CABARET – One shouldn't miss this cabaret when next in the island. This entertainment showcases a variety of talents from Lady Boys or Transvestites that are more women-like performers, mind you. Extravagance and flamboyance are displayed by artists in colorful costumes that will leave you in awe act after act. Truly, an attraction that is "not-to-be-missed" which features an International-caliber performance to complete your night of fun and laughter. Three scheduled performances run every night, with choices of VIP and Regular Seats that would suit your preference.
MY WAY CABARET – If you want to relax and enjoy a decent cabaret show and pay for it for the price of a drink then this is the place you want to be. The sparkling and most eye-catching cabaret in the Paradise Complex area features the best Lady-boy performers, and on some occasions the place hosts special events.
BOAT BAR – An internationally famous Gay Club which also features small cabaret performances but would rather be known as the best "Gay Hotspot" in town. It has been serving the gay community for more than 18 years and continues to attract both tourists and local party-lovers. The bar houses funky furniture that perfectly blends to its pop-culture theme in addition to modern sound and lighting system and a terrace bar that opens earlier to cater the guests waiting to move inside to watch the cabaret shows being performed twice nightly.
CONNECT BAR/SPARTACUS/JAMES DEAN/ORCHID BAR – These bars which are equally located on the Paradise Complex are also among the popular hangouts where you can just sit back and relax on the street side and watch the crowds pass by. And speaking of which, the Phuket Gay Carnival takes place in this very area once a year for three nights. Paradise Complex transforms into an Asian version of Rio or Mardi Gras: Colorful Lights, Balloons, and Flags flooding the streets with extravagant and sparkling costumes displayed by the ever famous Lady-boys.
GO-GO BARS
A typical Go-Go Bar scene consists of an elevated center-stage surround by stools and some stainless steel poles standing. Loud music, colorful dancing lights and sexy dancers on the stage sets the welcoming mood for an enormous night of an endless list of jaw-dropping entertainment like weird & exotic trick shows, comedian hosts, and on some occasions, even a snake show in between.
ROCK HARD A GO-GO - The oldest in the history of go-go bars in Phuket, dating back to the 90's where it was formerly called 'Hard Rock Bar,' and it actually had a zoo inside back then, yes a zoo! But with the change of name, Rock Hard a Go Go still remains vibrant as it caters mostly to the wholesome crowds. Couples are more than welcome as the place is more focused on tickling guest curiosity with good entertainment. Coupled with lots of 80's and 90's fast-paced music, friendly and 'not-so-naughty' girls to keep you company, and free entrance makes this joint worth a visit.
ROXY A GO-GO - One of the best go-go bars in Patong, Roxy boasts of its originality in fun and entertainment. The entrance to the joint advertises sexier models which are from Bangkok and the shows are more intricate, or rather lively, compared to other go-go bars around. The place is huge featuring two levels and each with its own stage, so there is no need to worry about seat availability. Prices are fair and more importantly, no surprises upon settling your bill.
SUZY WONG'S A GO-GO – Iconic and intriguing is the best way to describe Suzy Wong's a go go bar. The facade itself, with its bright red Chinese theme and a huge massive door already signifies that this joint is worth a peek inside. But behold, once inside you will already realize that you won't leave this place without experiencing a party you've never dare to miss! Waitresses in silk dresses, red lights in full blast, masks, swords, and an epic center stage packed with sexy girls dancing to the beat of the party music. Another feature of this joint is the "spanking" culture…you will actually get spanked by one of the girls roaming around wearing very little, but fortunately you'll find that despite the whacking sound of the spank, it's totally painless. And the best part is, you can spank back the girl. Hard to describe in words, so you better not miss to write Suzy Wong's on your night-life wish list in Phuket.
PHUKET TOWN NIGHT LIFE
Phuket Town night scene is much much tamed than the loud, lively, and festive atmosphere found in Patong. Phuket Town is the place to go should you like to experience the modern real life of the Thai People. Bars and Nightclubs display Thai culture – in a light, easy, and fun way.
Siam Niramit - an entertainment complex that houses the largest stage in the whole of the world, with three cultural shows every night highlighting Thai Mythology, culture, and traditions in a splendid color and effects. Located just off the By-Pass road near Airport Junction.
Quip Sky Bar - the first roof top bar in Phuket town with artistic décor, breezy atmosphere and an impressive view of the old city below. It has an area with regular chairs and tables near a brightly lit bar, and an al fresco area with cushions and small chairs for a relaxing night of good food.