RESTAURANTS PHUKET
When it comes to food, every tourist wants to satisfy both their cravings as well as their appetite for what the place would locally offer, and Phuket would extinctively gratify your taste buds with its abundant array of restaurants spread all over the island, serving both local and international cuisine of all sorts. Here are some of the most popular restaurants in Phuket to explore
KO BENZ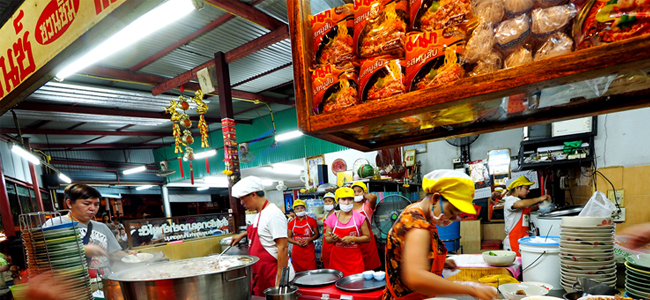 If you're in for a great noodle treat, then this is the right spot for you. Ko Benz specializes in noodles, but distinctively, they use "instant noodles" for their main ingredients. Yes, believe it or not, they can transform instant noodles packs into a gorgeous meal in which they add seafood, meat, and vegetables of your choice. The restaurant also serves delightful porridge if you're not into noodles. It is situated near the Blue Elephant along the intersection of Phatiphat and Ranong Road. Get ready to wait on queue if you're planning to dine in because half of the place is already full before they can even start taking orders. Another strange twist about this restaurant is that it opens according to the moon calendar, so prepare yourself to take chances and not get frustrated if you happen to drop by and the shop is close. Or better yet, consult with the locals around so you won't miss a chance on dining in this popular local restaurant.
ANG SEAFOOD
This restaurant is very popular among the locals, so expect it being full most of the time. Although the facade looks small and narrow, you'd be surprised how big and spacious it is inside. It serves fish, seafood, and lots of those 'hardcore' shells you've never even imagined can be eaten, and the best thing is, they really know how to cook them into fine exotic meals. It is situated on right on Phuket Road on the direction going to Saphan Hin not far from the Chinese Temple. Parking in this area is a bit difficult so you better drop by in a tuk-tuk or taxi.
SIANG CAN E-SAAN RESTAURANT
A visit in the land of smiles won't be complete without trying out E-Saan Food, and Phuket presents the Siang Can Restaurant to give you the best E-Saan dining experience. This "big as a warehouse" restaurant serves the famous Som Tam (Papaya Salad), Namtok Nua (Beef Appetizer), Namtok Moo (Pork Appetizer), Laab Het (Hot Mushroom Salad), and Pladook Foo (Grilled Cat Fish). This jam-packed warehouse-type restaurant is located along Mae Luan Road just opposite of the Mitshubishi Car Dealer/Showroom. As E-saan Dishes originated from northern part of Thailand, expect the food to be spicy. You can always tell the staff your preference or level of spiciness by saying "Mai Pet" (not spicy) or "Pet Nit Noy" (a little spicy), "Pet" (spicy), or "Pet Mak Mak" (very spicy; at your own risk).
MEE SIAM (LOKTIEN)
After being renovated not so long ago, this local food court continuous to serve great food. Stir-fried noodles (mixed with soy sauce & topped with spring onions), Pork Ribs Soup, and genuine Phuket-style Spring Rolls (made with turnips, pork, vegetables, and sweet sauce) are among their bestsellers. And don't forget to try out their famous Phuket-style Dessert called "O-Eaw," which is actually banana jelly topped with shaved-ice. Mee Siam is located along the corner of Yoawarat Road and Dibuk Road.
BHODI TREE NOODLE SHOP(MEE TON PHO)
Located right in the Phuket Clock Circle (next to the Chinese Shrine), this old and famous "Hokkien" Restaurant serves yellow hokkien noodle dishes that are worth a stop. Expect it to be hot, steamy, and crowded because both locals and tourists alike goes here for their sumptuous Stir-fried Seafood Noodle (Mee Hokkie Pad) and delicious Pork Satay (Moo Satay) served in skewer sticks. You can also try their "Laad Naa" which is actually fried noodles in a slimy sauce.
BRAKE TAEK RESTAURANT
Another popular restaurant among the local and tourist foodies is the Brake Taek. Renowned for their "Tom Yum Noodle Soup" and Meat Balls Skewers, you won't regret trying this place out. The restaurant offers a wide variety of noodles: Flat & Thin White Noodles, White Vermicelli, Glass Vermicelli, and Egg Noodles, with your choice of being served on soup or simply cooked with the soup on the side. It is located on Phang Nga Road, right across a soi opposite the Royal Phuket City hotel near the Bus Terminal. Although it would be difficult to get a table, especially during lunch time, it would be worth waiting once you taste and satisfy your taste buds.
BREEZE BAR & RESTAURANT
The newest bar and restaurant to visit in Phuket (opened in 2013) when it comes to Fine Dining. Breeze is true to its name, gentle winds flow through the open side of the place with a good view of the Cape Town. The interior is of laid-back setting that is not only relaxing, but truly lets you enjoy the new and modern cuisine that this place has to offer. The menu boasts of different cuisines that vary daily. The ingredients highly depend on what is available and locally produced. This superb fine-dining restaurant is situated at Cape Yamu, Paklok, Thalang and opens daily from 12:00 noon to 10:00 pm, except on Sundays it closes at 4:00 pm. Tasteful Decor and Surreal Atmosphere is what makes this place remarkable.
ACQUA RESTAURANT PHUKET
A fine gastronomic restaurant that can be found in Kalim Bay, Patong, Phuket is the Acqua Phuket. The place boasts of an Italian Chef whose imaginative dishes can only be described as mouth-watering. The chef utilizes only the freshest of ingredients from sources both locally and internationally. A definite "must" in your bucket-list of places to visit in Phuket, if you want to really want to experience wining and dining at its best.
BLUE ELEPHANT PHUKET
Definitely more than the usual Thai casual dining place, the Blue Elephant is one of the most romantic places to wine and dine in Phuket. This place was elegantly renovated from an old governor's mansion that was more than a hundred years old into an astounding place that would definitely bring a new dimension to your dining experience. Mind you, you won't come here to eat, but to dine. Whether you want to please yourself, entertain guests, or even set up a romantic occasion, there is no other choice. Owned and run by Blue Elephant International, a world-renowned Thai Culinary Ambassador and Cooking School, expect the best from their large and original menu. "Must-trys" would definitely be the unusual and tempting Buffalo Satay, Lamb Curry Masaman, and Steamed Fish in Bamboo, but the menu is endless when it comes to ordering dishes that you can't have next door. Blue Elephant Phuket is located in Krabi Road, in Phuket Town.