SPORT & ACTIVITIES PHUKET
It is common knowledge among the many that Phuket is all about relaxation and tranquility, but unknown to others, the island would also satisfy the adventurous and extreme adrenaline junkies. Yes it's true, that beautiful beaches to swim in and enjoy some water sport activities are common, but more so, the island's mountainous rainforests brings about a lot of excitement and challenges waiting to be discovered by you.
PATONG ZIPLINE ADVENTURE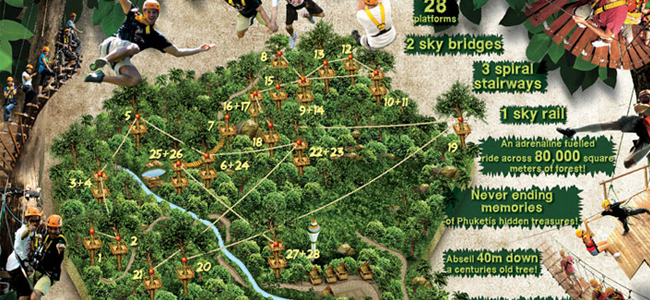 The Patong Zipline Adventure is located within a hidden deep forest. The unforgettable adventure starts with a four-wheel drive trekking through the thick forest in order to reach the heart of mountain-high rainforest where the Zipline Camp is nestled. The camp consists of the following platforms: 18 Zip Lines, 4 Absell Points, and 4 Sky Bridges. The camp also features a Jungle Restaurant serving a variety of sumptuous meals.
TARZAN JUNGLE ADVENTURES
Thrilling challenges awaits you with the Tarzan Jungle Adventures. A combination of obstacle courses including ziplines, wood bridges, net bridges, sling walks, climbing walls, rope walks, and skateboarding would surely satisfy your adrenaline rush cravings. The site is exotically located in a high-altitude coastal forest overseeing a sapphire blue sea. All these features can be safely conquered by extreme thrill seekers of all ages because Tarzan Adventures provides high standard equipment and highly trained key staffs.
MUAY THAI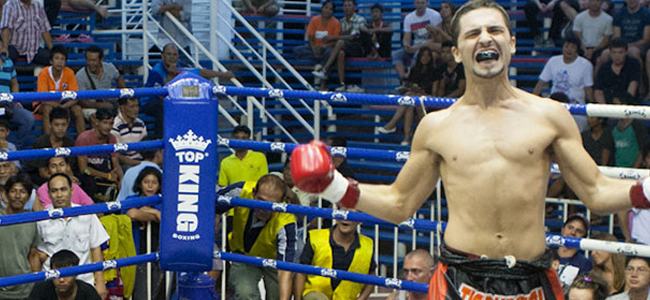 For boxing enthusiasts, here is one sport you might want to witness, and be encouraged to learn. There are stadiums on Soi Sai Namyen in Patong beach that displays Thai Boxing every night. The match is accompanied by loud sounds from Javanese clarinets, drums and cymbals from start to end, coupled with cheers from onlookers.
Muay Thai is as much of a sport and a ritual in many respects. The relationship between the boxers to his teacher is shown by the ritual performed before the fight begins. "Ram muay', a pre - fight dance is performed where the boxers wear headbands given by their trainers, and kneels and bows three times. This is in respect to their teachers. Then the art of boxing begins.
CYCLING AND BIKE TOURS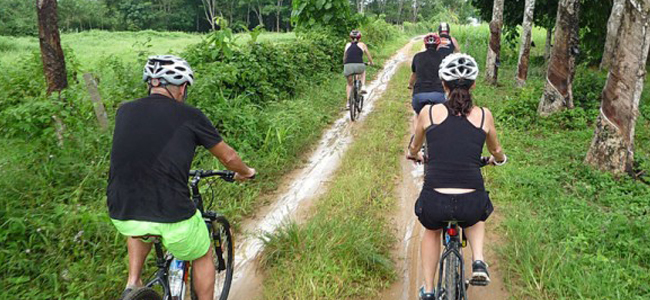 Whether on your own, or joining guided tours, renting a bike to explore the many attractive sceneries that Phuket has to offer is another way of enjoying your holiday. Lying by the seaside with a cold drink, attractive and tempting though as it may sound, can get you pretty stiff. There are plenty of places to go to for a refreshing air. A ride amidst rice fields, jungle trails and hills will leave you refreshed and your muscles relaxed. There are guided tours available for destinations like Ao Po, Cape Panwa, Laem Promthep and the nearby Krabi.
HIKING
Yes, Hiking. Beaches always come to mind when we speak of Phuket. But this is not always the case. Many activities that are not water related draws many people when they travel to Phuket. Although not a popular hiking destination, the island has some great trails that can be followed for a breathtaking view of the sea at their summits. A few organized hiking are sometimes in the offing.
ROCK CLIMBING
To wake those little daredevils in us, Rock climbing is a way to pump our adrenaline for a much deserved holiday. Phuket and its adjacent provinces offer great spots for adventure sports like Rock Climbing. Organized ones for beginners and experts alike are available that includes equipment, accommodations for long trips, and transportation. Popular destinations includes are nearby Phang-Nga, Railay beach, Khao Sok, and Koh Yai Noi.
BUNGY JUMPING
Another sport that will pump your adrenaline is the Bungy Jumping. A 50 meters drop above a lake surrounded by lush vegetation. The Jungle Bungy Jump in Phuket is run by registered professionals from New Zealand, offering different types of jump such as standard, water touch, tandem backward and catapult. Whatever type of jump, this is something that thrill seeker will find really quite exciting.
WAKEBOARDING
A water sport that is largely known in Phuket as a way to enjoy the waters and the sun, is available for the whole family to enjoy. There is the Phuket Wake, and the Anthem Wake Parks to unleash those inner acrobats in you. You may turn, or flip on the lake, but if you're a beginner, or in the intermediate level, this is quite alright as there are many who try this sports the first time too, and there are friendly staff to guide you for that safe and enjoyable experience.
SNORKELING
Phuket's tropical waters, a haven for the wondrous marine life is ideal for many water activities such as snorkeling. Calm and placid waters let you enjoy a day under the water to explore or simply to enjoy being one with the many varieties of tropical fish and coral reefs. The Coral Racha, the Phi Phi Island, Similan Island, Ao Sane, Laem Ka, Banana beach, and Kata beach are just some of the fine destinations for this type of water activity.
SCUBA DIVING
Phuket boasts of the many scuba centers, with professional divers who can teach you how to dive, or if you just simply want to upgrade your skills. The island is a popular destination amongst the many scuba destinations in the world, with nearby islands that will give you the best scuba diving experience. Fine destinations include Karon Beach, Phi Phi Island, Kata Beach, Similan and Surin Islands. Day trips and PADI courses are offered year round at best prices.