SHOPPINGS PHUKET
SHOPPING MALLS
Thailand is known for its variety of splendid activities and a handful of agendas, and one of it is shopping. Shopping for dry goods like clothes, shoes, accessories, blings, gadgets, and a whole lot more is one of the main reasons why Thailand is being visited by many, and this includes Phuket. A lot of Shopping Malls are scattered all over the island and they houses a multitude of shops and stalls, both of local and international brands.
Jungceylon Shopping Mall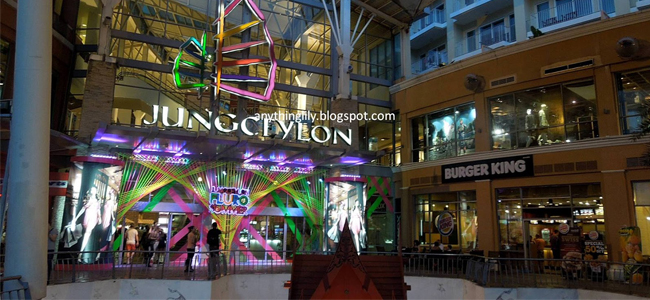 Opposite Bangla Road in Patong, this mall provides international branded name stores in the lines of clothing, shirts, accessories, cosmetics, perfumes, computer games, gadgets, and a lot more. The shopping mall also features entertainment other than shopping like an SF Cinema that houses five state-of-the-art theaters, and a 16-lane bowling alley. And of course, on the rooftop of this shopping mall resides the very popular "Famous Nightclub."
Central Festival Phuket Shopping Mall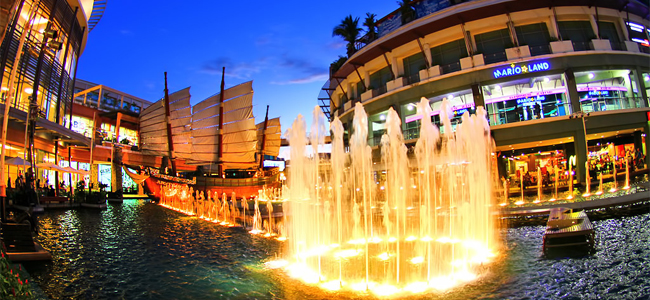 Dubbed as the "Shopping Hub" of the island, this fully air-conditioned indoor mall is home to more than 120 outlets and stalls selling all kinds of products. If you need anything, just name it and they have it. Food and restaurant choices are also abundant here, from Japanese to French Cuisine to local Thai food. This well-equipped one-stop shopping mall is situated just outside Phuket Town so if you are coming from Patong, you can find it lying on your left before the main crossroads before entering the main island. With its accessibility to the needs and wants of every shopaholic, you would literally want to spend a day in this place.
Premium Outlet Phuket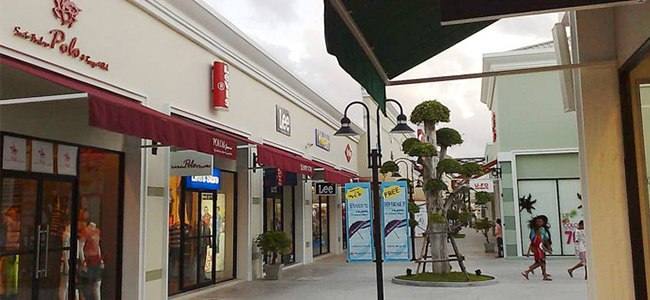 Phuket's first modern model of a large shopping mall, Premium Outlet Phuket combines modern and elegant design to underscore the ordinary architectures of the traditional types of shopping malls. Home to over 300 retail outlet stores with bargain prices of authentic local and well-known brands in clothing & sports accessories, this huge shopping paradise also offers discounts for as much as 80% on almost everything from gifts & toys to leather goods to house wares, as well as audio-video systems to computer equipment. The massive structure is located just over Patong Hill going towards the island's east coast.
Patong Promenade Shopping Complex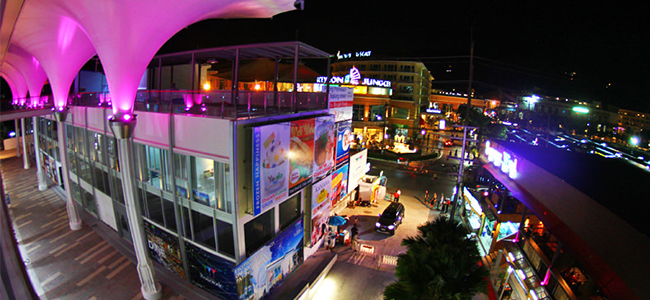 A state of the art shopping complex that was once a wobbly resort located right in the heart of Patong, is now a 40,000 square-meter home to about a dozen retail stalls and fine restaurants. Although this small shopping is close to the ever lively Bangla Road, Patong Promenade still maintains a serene and easy feeling ambience which is perfect for a relaxing stroll and a peaceful shopping delight.
FOOD AND FRESH MARKETS
One thing to know about the locals is that they love their food and condiments, with the richness and fullness of their flavors, their local delicacies partly sums up the whole Thai Culture. Thai heritage would not be complete without its fresh markets spread all over the country. In Phuket, there are 5 top fresh markets to check out in which vegetables, fruits, fish, sea foods, and meats are all fresh and abundant.
Banzaan Market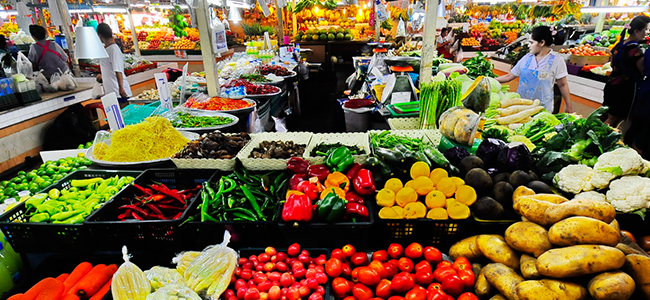 Located in Soi Kor Road behind the Jungceylon Mall in Patong, this modern-looking market is uniquely designed with style and details. It is very clean and offers a wide range of ingredients like meats, fish & seafoods, fruits, vegetables, and a variety of sweet & spices. Clothing and souvenir stalls are also being visible on some areas of the market. One thing that differs this to other markets is its Food Court on the 2nd Level where you can munch up on a wide choice of local foods at suitable prices.
Phuket Town Central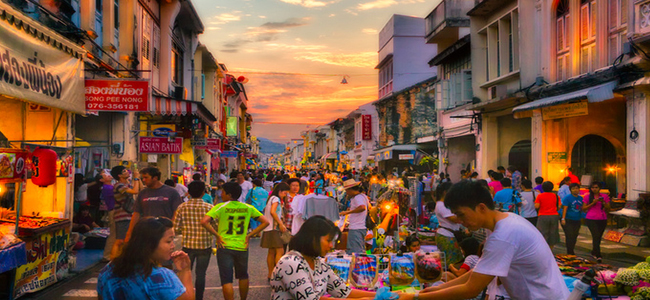 The Talad Sod and Satarana Markets are both located at Rarong Road in the Old Phuket Town. Both are open daily and most stalls are operating 24/7. Both markets sells fresh vegetables, fruits, meat, fish, and seafood, and plentiful condiments for your cooking pleasure. Most food vendors all over Phuket do their shopping on these two markets because they offer cheaper prices wholesale buyers. These markets are also known for selling those "out-of-the-ordinary" delicacies and exotic" foods.
Kata Market
Held twice a week during Monday and Thursday, this market which is located at Kata Road offers a wide array of not only fresh produce like fruits, vegetables, meat, and fish, but also clothing, toys and souvenirs. It is also a perfect place to try local snacks that can be bought at food stalls while wandering around.
Kumala Village Market
Opens every Wednesdays and Saturdays, this market gives an experience of a vibrant and colorful Thai life. Walking through this market that is small scale version of the Fantasea weekend market, you can find a lot of ready-made snacks and all sorts of raw materials and ingredients you need for cooking. Dry goods are also available here like clothing and fashion accessories. Kamala village Market is located in-between Kamala and Patong at the base of a hill that separates the two areas.
Cherngtalay Market
This busy market near the Laguna Complex gives a glimpse of local life in the beautiful and lively Phuket. Fresh produce like vegetables, fruits, seafood, and meats are readily available. Ready-made local delicacies can also be bought here and there are few stalls selling clothes and different accessories within the area.
NIGHT MARKETS
Phuket Weekend Market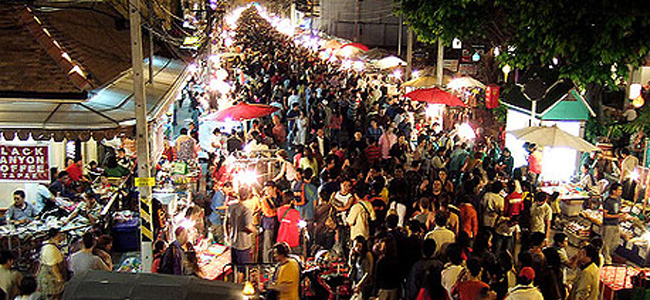 Known to locals as Naka Market and situated at Chao Fa West Road, this market features an endless array of pre-loved items, counterfeit goods (this market sells a lot of "copy" branded shirts and jeans), local food varieties, and live domesticated animals suitable for pets. This market is sure to embed satisfaction as well as fascination and has always been a popular weekend destination amongst locals and tourists alike.
Phuket Walking Street
This weekend night market is located on the historical grounds of Thalang Road, right in the middle of the Sino-Portuguese District during the olden tin trading days of Phuket Town. Authentic Thai cuisine and unique handicrafts, plus other creative and fun items are mostly sold in this area so it continues to attract tourists from different parts of the world; a resemblance of the district's historical past during the 17th Century. The Chinese, Indian, and Thai- Muslim souvenir items being sold all over the place actually gives you an idea of the former settlers of this area.
Phuket Indy Market
This vibrant single-lane night market at Limelight Avenue known as Laadplaykong has a mixture of goods and products (all kinds of personal items, designs, & unique ideas from creative Thai artists) that will certainly catch your eye and would surely make you reach for your pockets. Apart from live street performances by gathered teenagers and young acrobatic dancers, the place bringing the Indy Market Concept to a whole new level. The market is suitable for teens, young adults, and young at hearts, thus it is needless to say that this place is just fantastically wholesome.
Malin Plaza Patong Market
This night market specializes in custom-made designed souvenirs and a multiple range of great food at very affordable, so don't have to bother heading the restaurants. The place is very clean; tasty fruits, fresh vegetables, and all sorts of food are being cooked in front of you and then served in hygienic take-home containers. The place is located along Prachanukhro Road, on the southern end of Patong Beach. Although this market has the same variety of goods and items which can be seen from other markets around the island, the remarkable cleanliness and well-spaced stalls provides a cool and refreshing feel for the market-goers.
Royal Paradise Complex Bazaar
Formerly a solid jeans haven (and still is), this open-air shopping bazaar is located in Rat-U-Thit Road and houses at least a hundred stores offering products ranging from clothing, authentic handicrafts, weaving, candles, bags, CDs & DVDs, silk products, ceramics & pottery, shell jewelry (like headbands, earrings, pendants, breastplates, and armbands), woodcarvings, and hill-tribe handicrafts. Business usually starts late in the morning but the bazaar really gets busy in the early evening and carries on till late at night. One interesting point of this market is the Dr. Fish Stand, a shop that offers a weird foot therapy where small fishes nibble the dead skin of your feet to refresh them. Haggling is very important here, as vendors base their prices and discounts by the way you dress and where you come from, so sure to wear simple & light clothes, practice to haggle very good, or simply put on a smile while bargaining.